HENGTONG Keeps No.1 In Top 10 Most Competitive Enterprises In China Cable Industry
On sept. 25, 2016, the contest award ceremony of the most competitive enterprises in China cable industry was held in Shanghai, thousands of cable companies all around China attend the ceremony. The list of Top 10 Most Competitive Enterprises in China Cable Industry 2016 was released during the conference, Hengtong keeps No.1 in Top 10.
The contest was held by Wire and Cable branch of China Electrical Equipment Industry Association and Cable Information Research Institute. With judge team made up of professors from cable industry, economy and management field. They objectively analyzed against company scale, increase rate, efficiency, innovation, customer satisfaction, brand popularity, company culture, manage level and contribution to cable industry to make a comprehensive evaluation.
Mr. Bao Jicong, the executive president of Hengtong Power Industry Group was invited to attend the ceremony and reported in a topic of The New Strategy Opportunities of China Cable Industry Development.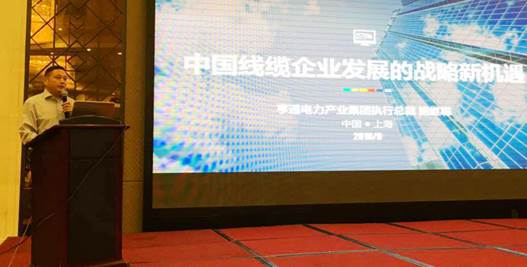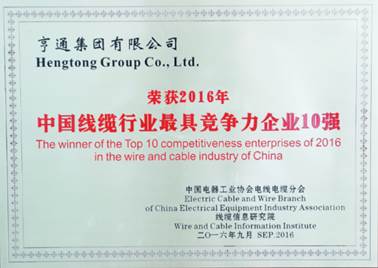 Mr. Bao Jicong summarized the general situation of China cable industry in the report, and pointed out the enlightenment to the transformation of China cable industry. The transformation of Hengtong group industry was showed in the ceremony from 9 aspects as below.
1. To be the main force to open B400G new communication era.
2. To be the world biggest fiber preform producer.
3. Push the development of smarter ODN4.0
4. To be the most efficient communication project constructor
5. To be family smart app service provider
6. To be the leader of smart ocean
7. To be the forefront pioneer in the field of quantum communication
8. To be an excellent provider of information technology and service
9. To be the guardian of green safe travel
In recent years, Hengtong has set up the development strategy of "manufacture R&D enterprise transform to innovation and creative enterprise, products provider transform to whole value chain integration services, manufacture enterprise transform to plat service enterprise, local enterprise transform to international enterprise", Hengtong always keeping on exploring the new develop field.
In electric power industry, Hengtong has formed Covering power engineering survey and design, power engineering contractor, construction, power engineering materials and equipment manufacturing and relatively complete industrial chain system, with products from high-end fine material to special power cable, HV cable, UHV cable, EHV cable and ocean power transmission chain products. The commission of Hengtong is to supply system solution and engineer construction service for power grid, smart grid, high-speed railway, rail transit, ocean project and high-end special equipment. All of these contribute Hengtong to be the leading energy interconnected system solution provider in cable industry.