Happy 50th Anniversary to Voksel!
Today (April 19) is the 50th anniversary of PT Voksel Electric Tbk, which is one of the leading cable manufacturers in Indonesia.
Cui Genliang, founder and chairman of the board of directors of Hengtong Group, sent a congratulatory letter to Voksel.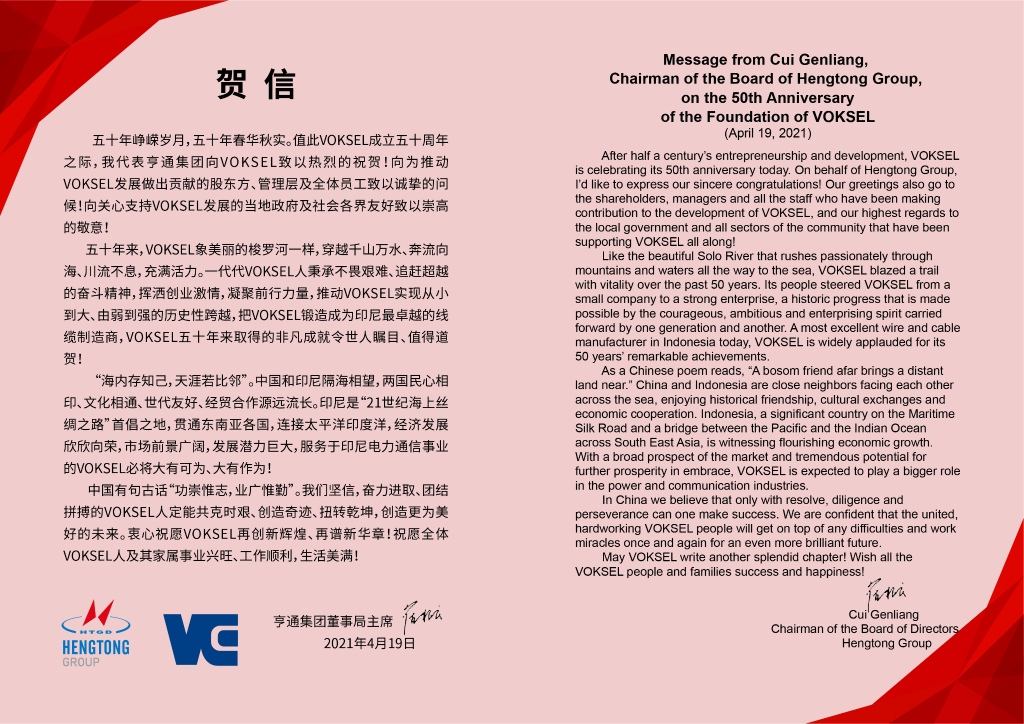 Greetings are also from Mr. Jerome Qian, Executive President of Hengtong Group, Mr. Cui Wei, V.P. of Hengtong Group, Mr. David Tan, President of Hengtong International Business Group, Mr. Park Kyounghoon, the V.P. of Hengtong IBG, and Mr. Frank Wu, G.M. of Operation of ETONG AVIATION.
The team of Hengtong IBG and PT MAJU BERSAMA GEMILANG (MBG) also expressed their congratulations.
From 2015, Voksel and Hengtong started strategic cooperation. Over the years, market share and profit have been steadily increasing. Hengtong fully supported Voksel in developing high voltage power cable which significantly enhanced its leading position in the field of cable solutions.

In the future, Hengtong and Voksel will continue to contribute to national growth with joint efforts and optimize corporate values through superior solutions and sustained social responsibility together.

Selamat Ulang Tahun PT Voksel Electric Tbk ke 50!